DIRECT LENDERS ONLY
ICS provides Brokers and Borrowers with competitive financing solutions by leveraging our strong, long-term relationships with all sources of capital, including Banks, Credit Unions, CMBS Lenders, Agency, Life Companies, SBA, Private Bridge, and Construction Lenders. If you are a Direct Lender, we would love to work with you. Our Broker Partners submit and package loans for our institutional and private Direct Lenders to review online via the ICS Loan Marketplace. As a Direct Lender, you can view fully packaged loans, and connect with Brokers quickly and easily to discuss loan scenarios and issue Term Sheets.
JOIN OUR LENDER NETWORK
OUR DIRECT LENDER PARTNERSHIPS
Banks, Credit Unions, CMBS Lenders, Agency, SBA, Life Companies, REIT's, Private Bridge, and Construction Lenders.
JOIN THE ICS LENDER NETWORK
---

---
We offer more options to Brokers and Borrowers by providing access to more Lenders. When one Lender says no, there is usually another that says YES! That could be you.
Pick & Choose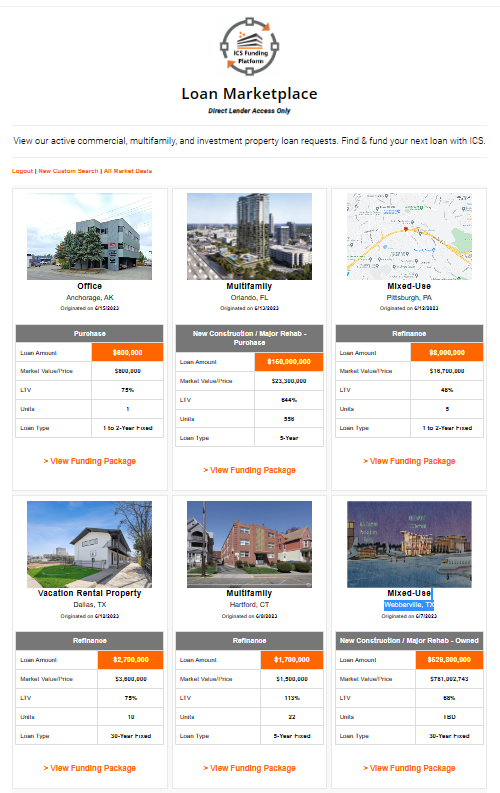 ---
Once signed up with ICS and your Direct Lender status is confirmed, within 48-hours you will have access to our Loan Marketplace where you can search for loans, connect with Brokers, collaborate, and submit Term Sheets.
---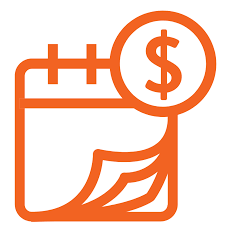 ICS COMMISSIONS
ICS is paid a loan origination fee by the Borrower at closing, and/or a lender paid referral fee based on total lender points charged and/or yield spread premium (if applicable). Our Broker Partners are paid directly at closing, or by ICS immediately following closing.
---
ZERO LENDER COSTS
As a Direct Lender with ICS, you pay no fees to sign up and access the ICS Loan Marketplace. We all get paid when deals close successfully.
5 REASONS
---
OUR DEALS ARE REAL
The ICS Loan Processing Team vets every deal before it goes to Market for Lender review.
---
LOANS ARE PACKAGED PROFESSIONALLY
Funding Request Packages are always complete, including property characteristics, property photos, and the income and asset information needed to make quick decisions to review or pass.
---
NO BROKER CHAINS
We only work loans with a direct connect to the originating Broker. When you review a loan at ICS,  you aren't wasting your time.
---
OUR PLATFORM IS EASY TO USE & MOBILE FRIENDLY
You can view loans quickly and easily on any device and connect with the originating Broker instantly through our Platform.
---
IT'S FREE
It costs nothing to register with ICS as a Direct Lender with full access to our Loan Marketplace. We all get paid together when the loan funds successfully.